Department of Economics
"Little else is requisite to carry a state to the highest degree of opulence from the lowest barbarism but peace, easy taxes, and a tolerable administration of justice."…………………Adam Smith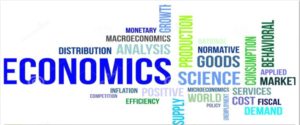 About the Department:
The year of establishment of the Department of Economics was 1987 with general courses in BA and B Com. The interdisciplinary courses of the department involved in general courses for Commerce and Arts (such as Economic Principle and Indian Economic Problems, Business Economics for Commerce, Micro, Macro and Indian Economics, and Statistics & Development Economics). Dr. Chhabi De had been associated to this Department from inception up to 2015 before her leaving.
Currently, the department has one part-time faculty, two guest faculties along with one full time faculty. Dr. Amit Mandal act as the Head of the Department. The number of faculties in the department compared to class load is adequate and both the existing faculties of the department are duly qualified and competent enough to teach the under-graduate students. The faculties maintain a warm relation of trust and confidence with the students. They participate in academic, professional and personal counseling of the students. The students are helped by meeting any query they have on the syllabus, on any specific topic from the subject, on the examination system or the future prospects. Besides, the faculties constantly interact and motivate the students for their future endeavourer.
| Sl.No | Description | Download |
| --- | --- | --- |
| Sl.No | Date | Description | Semester | Download |
| --- | --- | --- | --- | --- |
| 1 td > | 04 Apr 2020 | CC3 Introductory Macro_Commerce - 04-04-2020 by Dr. Amit Mandal | 2ND SEMESTER | Download |
| 2 td > | 04 Apr 2020 | MANKAR COLLEGE Banking 2nd - 04-04-2020 by Dr. Amit Mandal | 2ND SEMESTER | Download |
| 3 td > | 04 Apr 2020 | MANKAR COLLEGE Macroeconomics 2nd by Dr. Amit Mandal | 2ND SEMESTER | Download |