National Service Scheme (NSS)
The National Service Scheme (NSS) is a Central Sector Scheme of Government of India, Ministry of Youth Affairs & Sports. It provides opportunity to the student youth of 11th & 12th Class of schools at +2 Board level and student youth of Technical Institution, Graduate & Post Graduate at colleges and University level of India to take part in various government led community service activities & programmes. The sole aim of the NSS is to provide hands on experience to young students in delivering community service. Since inception of the NSS in the year 1969, the number of students strength increased from 40,000 to over 3.8 million up to the end of March 2018 students in various universities, colleges and Institutions of higher learning have volunteered to take part in various community service programmes.
The motto of National Service Scheme is "NOT ME BUT YOU".
All the youth volunteers who opt to serve the nation through the NSS led community service wear the NSS badge with pride and a sense of responsibility towards helping needy.
The Konark wheel in the NSS badge having 8 bars signifies the 24 hours of the day, reminding the wearer to be ready for the service of the nation round the clock i.e. for 24 hours.
Red colour in the badge signifies energy and spirit displayed by the NSS volunteers.
The Blue colour signifies the cosmos of which the NSS is a tiny part, ready to contribute its share for the welfare of the mankind.
A NSS volunteer who takes part in the community service programme would either be a college level or a senior secondary level student. Being an active member these student volunteers would have the exposure and experience to be the following:
an accomplished social leader
an efficient administrator
an person who understands human nature
Programme Officer
Dr. Arijit Bhattacharyya
Assistant Professor & Head
Department of Bengali (UG & PG)
Mankar College
Contact No.
9836092914
Email ID
arijitbhattacharyya@mankarcollege.ac.in
Number of Volunteer
100
Programme Officer
Subrata Mandal
Assistant Professor & Head
Department of History
Mankar College
Contact No.
6296861956
Email ID
subratamandal@mankarcollege.ac.in
Number of Volunteer
100
| | |
| --- | --- |
| Name of the Village | Maro |
| Panchayat/Municipality | Mankar Gram Panchayat |
| Block / Subdivision | Galsi - I |
| District | Purba Bardhaman |
| Pin | 713144 |
| State | West Bengal |
Google Map of Maro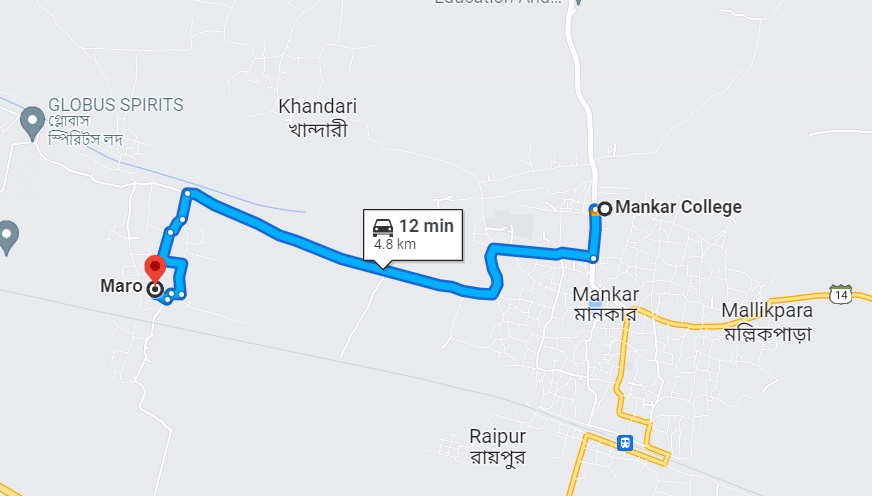 About Adopted Village:
According to Census 2011 information the location code or village code of Maro village is 319873. Maro village is located in Galsi I subdivision of Barddhaman district in West Bengal, India. It is situated 5.3km away from sub-district headquarter Galsi. Purba Bardhaman is the district headquarter of Maro village. As per 2009 stats, Mankar is the gram panchayat of Maro village.
The total geographical area of village is 743.8 hectares. Maro has a total population of 3,461 peoples, out of which male population is 1,780 while female population is 1,681. Literacy rate of maro village is 57.04% out of which 64.55% males and 49.08% females are literate. There are about 821 houses in maro village. Pincode of Maro village locality is 713144.
Durgapur is nearest town to Maro for all major economic activities, which is approximately 28km away.
The distance between Mankar College to Maro (Adopted Village) is 4.8 km.
Activity Photographs:
(During the Special Camp 2023)