Department of Nutrition
Objective of the Department:
"leave your drugs in the chemist's pot if you can heal the patient with food"
We, the Department of Nutrition ,Mankar College, provides the high quality education to student .Nutrition is an integrated & a professional program preparing students to work as nutritionalist & dieticians & explore how it affects the health of the individual & the nation, & also to explore the necessity of food & nutrition for humanity. It is a vital & growing profession with ample career opportunities. Students are motivated & guided by the experts to participate in various programs related to research, seminars to uplift the knowledge of students in various field of food & nutrition. We provide career oriented as well as job oriented educational system. The college is under the supervision of Burdwan University & the teaching personnel are well equipped with modern educational knowledge. The department also provides modern & scientific equipment to facilities both theoretical & practical assistance. Department also emphasize on ultimate students satisfaction as they are the end user of all our activities. We take regular feedback from the students & uplift change ourselves & make us dynamic. For last 2 years departmental success rate is very high & some students scored brilliant results in the University Examination
Date of Establishment: 16.07.2018
The highlights of this course is Clinical Nutrition, Sports Nutrition, Food & Nutrition & Technology, Physiology, Biochemistry ,Microbiology& Community Nutrition including community visit.
Learning Resources:
The main teaching methods are lectures, class discussion, field visits & case studies
Tutorials, mock-test & surprise tests are held periodically
Students are sent to visit various ICDS centre/old age home/NRC for preparing report on nutritional status ,&community visit for diet survey
Learning resources including good collection of books in the college library, internet facilities, power power presentation.
Students are given assignments & reference materials.
Practical class are emphasize with proper supervision.
Scope for Higher Study:
Student can opt for MSc courses in Home Science , Applied Nutrition, Food Science &Nutrition ,Clinical nutrition & Dietetics, Food& Nutrition , Food Service Management, Food Processing &Nutrition Science , Food security, Sports Nutrition.
Other Activities:
Celebrating: The National Nutrition Week 2019
With the motive to intensify awareness on the importance of Nutrition for health, an annual nutrition event is observed in the country from 1st to 7th September every year. The National Nutrition Week (NNW) as it is called, was conceived by the Food and Nutrition Board in 1982 as an annual event. The department of Nutrition in collaboration with NSS unit-I and II , Mankar College organized an one day event to mark the NNW on 1st September, 2019.
It was specifically a community based nutritional awareness programme to inform and alert the whole college including all the teachers, students of other department and other non-teaching staff regarding the appropriate choice of food for quick recovery as well as for preventing malnutrion further diseases and complications
At the initiation of this event our respected Principal Dr. Sukanta Bhattacharya delivered valuable speech on the importance of our subject. He said "Nutrition is an issue of survival, health and development for current and succeeding generations, most people eat what they like or because it is a norm or habit, their choice of food is not influenced by the awareness of its nutritive value, it is also necessary to understand that a delicious dish is not necessarily a nutritious one." He also encouraged our department to grow to be the best.
We made 3 desks on this programme. Desk 1: The Physiological status assessment desk which measured height, weight, checked blood pressure and also assessed clinical appearances and indicated the subject's physical state. Desk 2: The Dietetics department desk which provide diet chart with proper dietary guidelines on the basis of the subject's weight, age and present and past history. Desk 3: The Community awareness desk gave relevant information regarding the adulterants present in our daily life food commodities and also dietary practice on the basis of specific blood group.
Our respected Principal sir and other senior professors were impressed by the work of our department and its enthusiasm, interest. Total 23 students of our department performed on this event which was a great success with active participation from the teachers and students of whole college.
We are very much thankful and express our gratitude towards Dr. Sukanta Bhattacharya, our principal for his support and guidance. We are immensely humbled by the generosity and are thankful to the NSS unit I and II, Mankar College for their kind cooperation.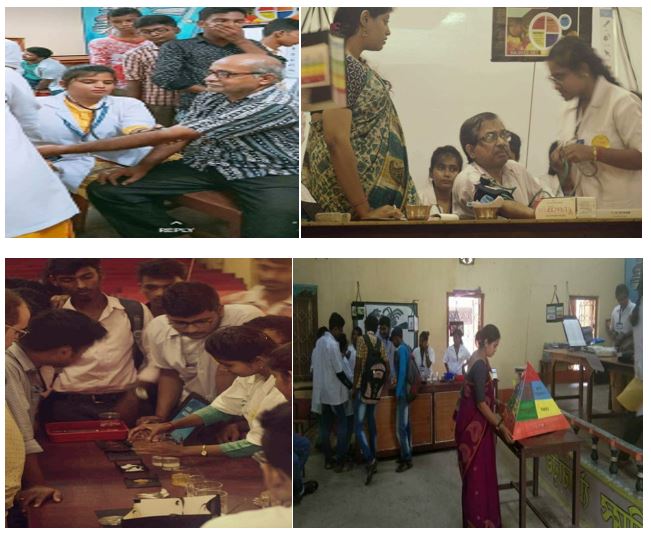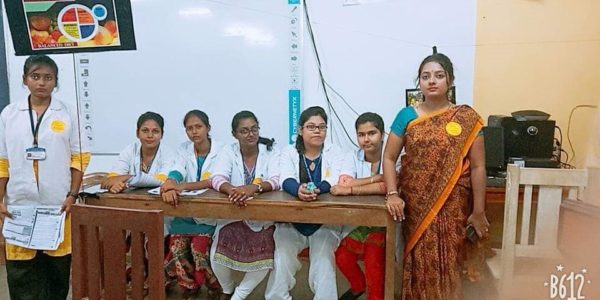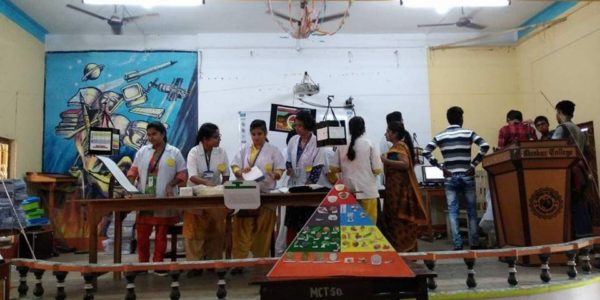 Nutrition camp:
Our Mankar college ,Nutrition Department organized a unique nutritional programme at PANCHAMAHULI PRIMARY SCHOOL ,PURBA BURDWAN ,on 17.09.2019. The programme was under NATIONAL NUTRITION WEEK-2019. It was an awareness programme amomgst the primary students regarding impact of food & nutrition on their health. A data base programme with height, weight mal-nutrition ,obesity, etc., of the kids were considered & provided advise. Each students, one by one, questioned & provided individual diet chart considering the economic conditions of their parents . We gave maximum effort to make the programme successful, tied with NSS ,unit I &unit II , Mankar college. The programme which was for the benefits of the primary students, were very much satisfied & benefited, as well.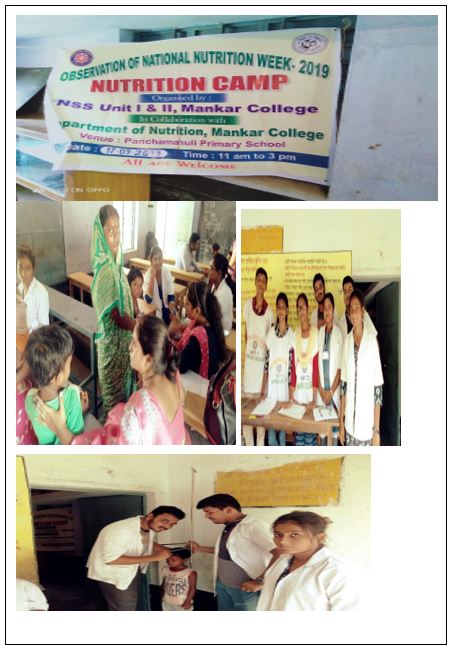 | Sl.No | Date | Description | Semester | Download |
| --- | --- | --- | --- | --- |