Department of Philosophy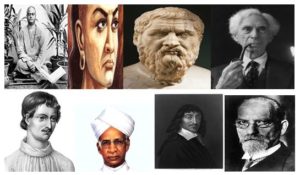 The Department of Philosophy, Mankar College was established in 1987. The general course of BA was started in 1987 and the Honours for Philosophy initiated in 2008 (The Honours in Philosophy has started with 25 number of students in 2008 and the Head of Department was Dr. Sukla Parai). The Department has introduced an innovative curriculum, with equivalent emphasis on the Indian and Western Philosophy (such as Indian philosophy, Western Logic and Metaphysics, Ethics: Indian & Western, Religion & Social Philosophy, psychology etc.). Such a syllabus along with the adoption of new methods of teaching, research and teacher-student interaction marked a wide departure from other colleges.The number of faculties in the department compared to class load is adequate and both the existing faculties of the department are duly qualified and competent enough to teach the under-graduate students. The faculties maintain a warm relation of trust and confidence with the students. They participate in academic and personal counseling of the students. The students are helped by meeting any query they have on the syllabus, on any specific topic from the subject, on the examination system or the future prospects.
Currently, the department has two Part-time faculties, four Guest faculties along with one full time faculty. Mr. Shukdeb Mondal acts as the Head of the Department. The noted alumni of the department working in different fields of the society (such as academic and non-academic profession). The present faculties constantly interact and motivate the students for their future endeavourer.
The details of the department are given below (last five years)-
1. Intake in Different Subjects.(including Reservation as per government rule)
| YEAR | GEN | SC | ST | OBC-A | OBC-B | TOTAL |
| --- | --- | --- | --- | --- | --- | --- |
| 2014-15 | 22 | 8 | 2 | 1 | 1 | 34 |
| 2015-16 | 22 | 8 | 2 | 3 | 2 | 37 |
| 2016-17 | 22 | 8 | 2 | 3 | 2 | 37 |
| 2017-18 | 22 | 8 | 2 | 3 | 2 | 37 |
| 2018-19 | 22 | 8 | 2 | 3 | 2 | 37 |
2. Subject-Wise intake Capacity and demand ration
Year
Subjects
University Intake
No Of Students Admitted
No Of Application Recived
Demand Ratio
2014-15
Philosophy
34
27
61
1:1.79
2015-16
37
23
322
1:8.70
2016-17
37
23
163
1:4.40
2017-18
37
24
151
1:4.08
2018-19
37
15
305
1:8.24
3.No of Students admitted & No of the Students drop-out
Years
Subject
No of Students admitted on Sem-I/ 1st Year
No of Students enrolled or registered
No of the Students dropped
percentage of drop-out of Students
2014-15
Honours
27
21
6
22.22
2015-16
23
18
5
21.73
2016-17
23
21
2
8.69
2017-18
24
20
4
16.66
2018-19
15
15
0
0
4.No of total Classes held in the last 5years (Subject-wise)
| Subject | 2014-15 | 2015-16 | 2016-17 | 2017-18 | 2018-19 |
| --- | --- | --- | --- | --- | --- |
| Philosophy(H) | 592 | 674 | 1133 | 1117 | 1175 |
| Philosophy(P) | 682 | 697 | 685 | 618 | 695 |
| Sl.No | Description | Download |
| --- | --- | --- |